I have many OC's (original charcters) but for right now I will only post NinjamanZ for the moment.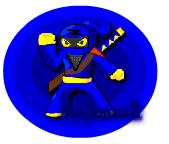 Name: Ninjaman Z
Species: Ninjaman
Nickname: Blue flame of Katanna, Z
Weapons: Katana, shuriken, smoke bombs
Powers/Abilities: expert swordsman, master of jujitsu, fire nindai (element) water nindai, lightning nindai, and ninja stealth and speed.
Weaknesses: Defense isn't too high, personal goals often blind him from his true objectives.
Appearance: Blue and goldish-yellow Ninja with light-yellow eyes.
Back-story: Ninjaman Z is part of the legendary duo of the land of Katanna, next to Ninjaman Wraith. He is the Blue flame of Katanna, a special honor only given to elite Ninjaman who attain high ranks in the military and learn powerful Nindai ranks can gain this title. Ninjaman Z is one of the two who has attained this rank and title. Currently game-wise he is fighting solo against the Dark shogun, (I'll put up the story about the game later) the Armed Guard, the Ninjamen core, and his ex-best friend, Ninjaman Wraith.